Chocolate lovers unite! February 5 is National Nutella Day!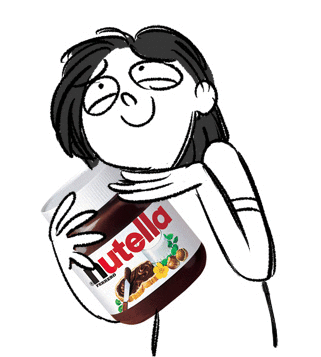 If you are like me, you've enjoyed a jar or two (or 50) of this chocolately goodness over time.
Nutella has an interesting history. You can read "10 Things You Didn't Know about This Chocolate Spread" to learn more. I found fact #7 to be surprising.
Here are some writerly ways for you and/or your students to celebrate this delicious holiday:
Make a "10 Things You Didn't Know About ___" list of your own. This could be a list about you, about your writing, about a curricular topic, about your class, etc. I also think a "10 Things I Didn't Know About ____" list would be fun too!

Write a story about what happens when your jar of Nutella goes missing. (Oh, the horror!)

Write a love poem or ode to Nutella or another food you love.

Create a list of all your favorite comfort foods, snack foods, etc. What would your life be like with out these things?

What food or tasty treat do you think deserves its own special day? Write about it. How would you celebrate?
If you're looking for an unwriterly way to celebrate National Nutella Day, I can't recommend this recipe for Easy Nutella Cheesecake Pie enough. (You're welcome!)
If you or your students celebrate National Nutella Day, I'd love to know about it! Tag me on Twitter (@TeachWriteEDU) or leave a comment below.
Write on,
Thanks for visiting the Teach Write website!


We believe that teachers who write make the best teachers of writers. We regularly share ways to help both you and your students grow as writers.